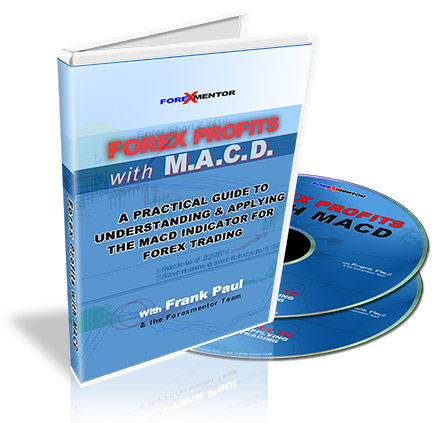 FOREX PROFITS WITH MACD

A Practical Guide to Understanding and Applying
the MACD Indicator for Forex Trading

with Frank Paul & the Forexmentor Team
Dear Forexmentor Trader,

Learning to trade Forex is about applying proven and simple tools, The MACD indicator is unparalleled in its versatility, reliability, and predictive power for trading the Forex. This is why MACD is a one of my favorite tools in the world of Forex trading.
When analyzed with the other core components of my trading system – support/resistance, trendlines, moving averages, and pivots – MACD provides the Forex trader with tremendous insight into forex market dynamics.
To help you attain an expert-level mastery of this powerful indicator, Forexmentor has developed a comprehensive video course focused specifically on MACD and its basic and advanced applications to the world of Forex trading.
Designed to both build on and expand the concepts in my home study course, "Forex Profits with MACD†will appeal to all experience levels from novice to season veteran.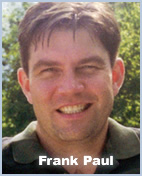 The "Forex Profits with MACD" course is developed and hosted by long-standing Forexmentor member and AM Review contributor Frank Paul,. Frank has done a masterful job in researching MACD from every angle imaginable. You be completely amazed by the depth of knowledge Frank has on this topic. Learning to Trade Forex has never been more fun.
Frank effortlessly blends both the theory every trader must know, with practical trading strategies you can use right away regardless of your personal trading style.
Simply put, when done with the course you will know more about one of technical analysis' most powerful indictors better than 98% of your trading competition.
You'll get in this comprehensive course dozens upon dozens of individual examples on every timeframe from weekly to 5 minute charts:


How to identify MACD crossovers as reversal setup signals

How to distinguish between valid and 'fakeout' signals

How to use MACD crossovers to identify counter-trend setups and trade their resolution

How to use divergence signals on both MACD and its histogram to spot potential reversal setups

How to determine when and why divergence signals sometimes do not produce valid reversals

How to use the MACD Trend Cycle concept to monitor your open positions

How to work with MACD neutralization signals to confirm trend continuation setups

How to use MACD crossovers to confirm chart reversal patterns

How to use MACD as a core component of Multiple Timeframe analysis

...and much more!
If all that wasn't enough, Frank has also included three additional bonus items to expand your mastery of MACD even further. Check these out:
MACD Course Bonus #1
THE MACD-PARABOLIC ENTRY SYSTEM
Once you've learned to accurately assess the Tradable Trend using MACD and other indicators on multiple timeframes, the next step is to have a reliable and relatively easy-to-use entry signal system that gets you into the trade with precision timing and limited risk. In this mini-module, Frank shows how a two-panel MACD chart setup in conjunction with the Parabolic SAR indicator and daily pivots on low-level timeframes can give you trade setups with extremely high reward/risk ratios – even if trading only intra-day!
MACD Course Bonus #2
USING INDICATOR OVERLAYS ON MACD
In this mini-module, Frank walks us through various examples of how other standard indicators (such as the 50-, 100-, and 200- period Exponential Moving Averages, 21-period TEMA, Bollinger Bands and Zig-Zag) can be superimposed over MACD both to enhance trend following signals and to generate alternate entry and exit signals. Using both the popular IT Finance and Accucharts charting platforms, this module covers both the mechanical 'how-to' application of overlays as well as strategies for interpreting the resulting signals.
MACD Course Bonus #3
WEEKLY MACD 'CHART OF THE WEEK'
Frank added six months of Chart of the Week trading examples to vividly demonstrate one or more important principles of trading MACD as presented in the course. This resource will be made available only to purchasers of the course and will undoubtedly reinforce and highlight your mastery of technical trading with MACD. A total of 26 archived trade examples are provided, each comprising a multi-chart, top-down presentation resulting in easily over 200 individual charts in total.
Mastering the art of technical analysis is a key skill in learning to trade the Forex. Just like the journeyman carpenter or welder, we need to master a number of important tools before we're qualified to get the job done: how to apply them, how to operate them safely, and how to use them with other items in our toolbox.
WHO WILL BENEFIT...
| | |
| --- | --- |
| | Those who are new to technical and/or forex trading and wish to lay the foundation for future success with the powerful MACD indicator |
| | Those who have reviewed the Forexmentor member's library and archival information on MACD and seek a single resource that really 'pulls it all together' |
| | Those who feel they need a practical compendium of 'how to' strategies and signals for trading with MACD |
| | Those who have trouble reading sometimes conflicting or contradictory signals – whether MACD readings on multiple timeframes or when read in conjunction with other indicators – and want to 'get over the hump' |
Listen to my recent discussion with the course creator - Frank Paul
KUDOS FOR "FOREX PROFITS WITH MACD"
Finally finished Frank's MACD course and it was packed full of great info. -- it was not all on MACD either, but in conjuction with PSAR, fast and slow MACDs, and indicator overlays! Very interesting! Very well presented too. It works! Thanks, Frank!
Susan Gast in Florida
Dear Peter, I would like to share with you that I have made over 190 pips on the Continuation Pattern on Oct 22 with the GBPJPY, and I have just went through the MACD course by Frank Paul who has introduces this 3 minutes PSAR entry system. I have and I closed my the next morning, I have took 80% of the profits when I reached to the first
S/R area and I moved my stop loss to the 50 pips profits and gamble the rest to the leg 2 target.

Frank's Macd course really helps me to understand the neutralization with the trend line break and the cross over of trigger line. He has also given me suggestion that the Leg 1 and Leg 2 might be a huge profit that night, well! Thanks again to all the mentors in your team and all the excellent
education for trading as a winner. Excellent job! God bless you all!
Simon Shair, Vancouver, BC
Hi Frank, I purchased the MACD course and others recently from Forex Mentor. It is a truly remarkable course with a lot of information how to use them correctly. I never clearly understood MACD how to use correctly and I was making a lot of bad trades. I was wondering where I was going wrong.

After following your course, I can clearly see the market action and pin point high probability trade now. I am still in learning mode. I usually trade FTSE 100. The successes rate has been 50:50 and it has been a roller coast ride.

After learning MACD and MACD Overlays in your bonus module, I have been making consistent small profits.

Particularly, Slow and Fast MACD and overlay of EMA 100 of MACD and TEMA have been a wonderful tool to predict the movement precisely. TEMA on Fast MACD warning signals before MACD saved from bad trade. I still made profits on these trades exiting early after monitoring early waning. TEMA on Fast MACD works on FTSE 100 so well for some reason. This is to express my gratitude for the well presented and concise course on MACD which one not only covered MACD but also other aspect of the trading. I can confidently say that it is a complete trading course.

May God bless you and your family,
Kind Regards
Saba Nesar, UK
Frank, Thank you for coming out with this course.It has helped my trading significantly.With your Maps and a little practice I know I will finally be successful.The new things you teach us each week in your Chart of the Week are awesome. You truly have over delivered .I've bought dozens of courses,attended workshops,but none have taught me as well as your course has.I'm a fan of yours for life.So if you come out with any thing else I will surely buy it without a second thought.Hope you do start the trading room for the GBP/JPY that you were considering.I'll sign up.What you have taught is the only thing I use to make my trading decisions .It works better than anything I learned in the past.I really like the tight stops. Thank You, John Kalmes

If you are looking for the most comprehensive and practical guide to my favorite forex trading indicator, I heartily recommend this course. It definitely belongs in your trading library. Review it often and it will 'turbo-charge' your trading!
Good Trading to you,
Peter Bain